'Twas on a Monday (Tues/ Wed/ Thurs/ Fri/ Sat/ Sun) morning
When I beheld my darling. She looked so neat and charming
In every high degree. She looked so neat and nimble-O
A-washing (A-shaking/ A-drying/ A-airing/ A-ironing/ A-folding/ A-wearing) of her linen-O
Dashing away with the smoothing iron (repeat twice more)
She stole my heart away.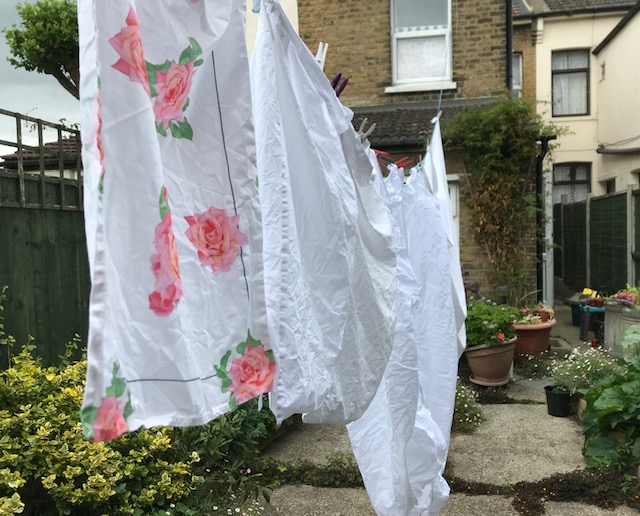 It's Monday! Washday, by tradition. How often do you run the washing machine? Do you run it more than twice a day? Since "lockdown" I have been watching more television – especially history programmes. Watching programmes focusing on the lifestyle of the ordinary working households, made me realise the sheer and utter drudgery involved in doing the weekly wash. And the amount of time consumed. Even as recently as the early 1960s housewives did the laundry manually and it was physically hard work. For the first couple of years of my marriage I washed our laundry by hand, scrubbing the garments/ bed linen with bar soap rinsing then hand wringing before hanging on the washing line to dry. I did not even have access to a "mangle" with which to squeeze out excess water but simply twisted the items with my hands. Then in 1961 my Parents bought me a twin-tub washing machine which made a huge difference. I still needed to lift the wet washing to pass it through the electric wringer, but that was all.
Today I still line-dry my washing. I do not need an electric tumbler-drier. I could pretend that I am doing my bit for the environment but actually it is more a question of cost and convenience. To find the space for a tumbler drier I would need to remodel my kitchen. I seldom iron any of my laundry. Back in the days of the song clothes were made from natural fibres such as cotton and linen which creased easily. Today's fabric mix of man-made and natural fibres rarely needs ironing.
As I moved along the washing line pegging out my clothes I felt a crunch beneath my shoe. Uh-oh! A snail. I still cannot bear to squash adult snails beneath my feet (except accidentally!) so I found my red beach bucket and collected as many as I could then I dumped them in the gardens across the road. Snails are rumoured to be able to find their way back but I defy these snails to take their chances crossing a busy street to get back home.