When I was a child my Mother sewed and knitted every garment that I wore, apart from my gabardine mackintoshes and my winter coats. The first bought items that we purchased were my school uniform when I was eleven. That summer I had stitched myself an elastic waisted dirndl skirt on the school treadle sewing machine in a pretty turquoise and pink checked fabric. Then I sewed myself two matching blouses, one pink and one turquoise. School sewing lessons were not brilliant – but my Mother helped me so that I always finished and wore what I was making. On reflection I guess that the outlay for fabric and pattern was not cheap and she did not want it wasted.
I stopped making myself clothes years ago, partly because I simply lacked the time and energy after, work and partly because it because so easy too pop down to Marks and Sparks or BHS to buy myself something off the peg.
However, Sewing is my favourite hobby. I can lose myself all day cutting and stitching and creating . . . there is something so satisfactory to watch a length of flat fabric transform into a finished garment. Over the years I have slowly acquired a stash of fabric that I bought fully intending to make a dress or top then becoming side tracked and forgetting. When did I buy that grey with the white spot? Eighteen years ago, planning to use the spots as a guide for smocking for. A little dress for my granddaughter? I think the pretty spotted blue was bought with myself in mind and that would have been thirty years ago! "You could sell the stuff on eBay," suggested a friend. Well, yes, I suppose I could. Then another friend from the Essex Winning Women group announced that she was paying a visit to our sister group in Zambia this month. Perfect! I could make pillowcase dresses for her to take with her.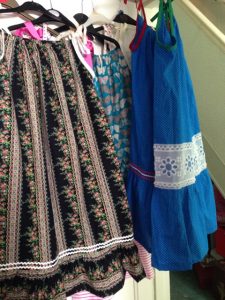 The secret to the best pillowcase dresses is to start with a tube of new fabric. Cotton is preferable, in bright patterns and NOT see-through. Good condition used pillowcases are fine, but they yield a narrow tube which only fits the smaller girls. I use 45inch wide fabric, piecing fabric to make wider tubes for the larger sizes.  I like to embellish my dresses with a flounce and trims. Where possible I enclose the seams or I zig zag the stitching to make the dress hard-wearing. There are so many websites with advice and patterns – just Google "pillowcase dresses". Click here for a really useful table of measurements.