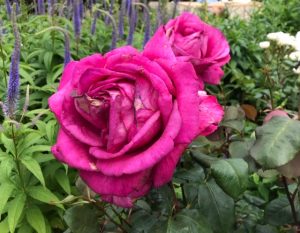 My garden had a thorough soaking during Monday night which brought out all the snails for a dawn fest. I collected over three dozen and dumped them under the hedge across the road. It did not just rain: it bucketed down continuously for over two hours. No doubt the gardeners who held "open garden" on Sunday were relieved to get the rain after their event and not during. The two seagull chicks huddled together on the neighbour's chimneystack had absolutely no protection. Mama – or maybe it was papa – seagull watched over them from a lofty perch on the top of the chimney pot. What instinct prevents the chicks from falling off the ledge?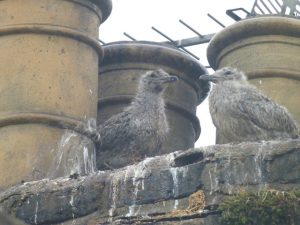 Do you remember as a child chanting, "Rain, rain go away. Come back another day."? Or more irreverently: "It's raining! It's pouring! The old man is snoring. He fell out of bed and bumped his head and never got up in the morning'"? Where do those words originate? Then there are all the old expressions such as "It's raining cats and dogs", "Rain before seven, fine before eleven". "Red sky at night is the shepherds' delight. Red sky in the morning is the shepherds' warning".
I did not look at the sunrise on Sunday morning but the day dawned fair and sunny for the Hockley and Canewdon "Open Gardens" event to raise money in aid of Havens Hospice. The first garden looked as if it had been established very recently, with immature trees dotted on a vast manicured lawn, surrounded by colourful borders. If you looked carefully amongst the foliage you would spot little pottery animals made by the owner's wife. We sat on the patio enjoying a slice of homemade cake and admiring the scented chamomile path to the G & T bench under the trees.
It is hard to pick out a favourite from the nine gardens we explored. What was evident in every garden was the amount of time the owners devoted to maintenance. All the gardeners battled with slugs and snails. One gardener kept many of her plants in pots tied around with copper wire. She kept all the cabling when her home was re-wired, stripped off the insulation and used that. She also tried to confuse the snails by changing the location of the pots on a regular basis. Another gardener, armed with a torch, went on a slug hunt just after dark. My favourite tip was to boil garlic in water then spray that water on the plants. I shall try that.