What does the word "quilt" mean to you?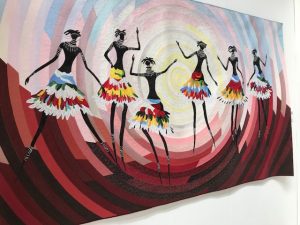 As child I always thought that "quilt" was synonymous with "eiderdown", the thick padded cover that I had on my bed. Then there are thick padded winter jackets quilted for warmth. I have used quilting to sand which together fabric and wadding to create a thicker fabric suitable for sewing into a kitchen appliance covers. However I just had not realised that quilting is an art form, much varied in application. The annual "Festival of Quilts" is held at the NEC in Birmingham, a bit of a trek from here but my sister had given me a free ticket so off I went. I left home just after nine and arrived t the Exhibition hall by half past noon. The train journeys were not long – it was the segment of the journey that involved crossing London that took up the time. However I took my food and a good book and the time soon past.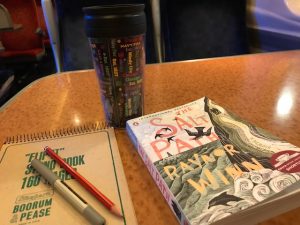 If you work with textiles you will understand when I say that I was blown away when I entered the first of the three halls. It was not just the vast array of stunning quilts – some 1500 of them! – it was the displays of gorgeous fabrics on sale plus every notion a quilter could possibly need. Wandering up and down the aisles is exhausting, but there were many chairs dotted in clusters around the hall to provide welcome resting places. And everyone was so friendly. I chatted to visitors from Denmark, Leicester and Brighton – so I was not the only one to make the long trek.
Besides the displays there were workshops, talks and demonstrations. Many of the visitors devoted two days to the exhibition in order to take it all in. Would I go again? Most definitely. And I would take my shopping-trolley-on-wheels to avoid the weariness resulting from wearing a backpack all day.