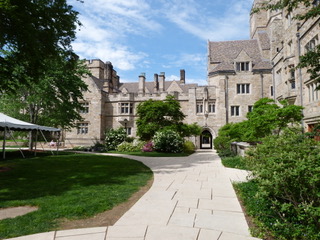 "Once in a lifetime experiences" are unique by definition and to attend an ivy-league college graduation is one such privilege. The Yale University graduation ceremony itself was on a Monday, but events were scheduled all the previous weekend. My sister, Ann, and I took an Amtrak train from Penn Station in New York to New Haven. The journey itself was fine but the boarding process was a fraught free for-all as passengers jostled for seats and to stow their bags.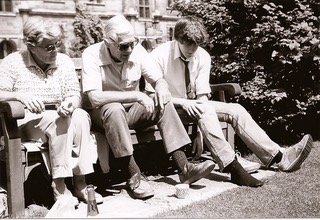 We met William for lunch in New Haven, then he escorted us on a tour of Yale University Campus. I was reminded of a visit to Cambridge University some thirty-five years ago when his uncle showed William's grandparents around Pembroke College.
That evening we joined a group of William's graduate friends for a picnic sitting on rugs on a hill overlooking New Haven. There is something so stimulating and inspiring about the company of a bunch of young people on the point of starting their careers, buzzing with ideas and aspirations and plans for the future. It made a refreshing change from recent conversations with jaded oldies who have a tendency to be full of gloom and doom. (Do NOT mention "Brexit"!)
On Sunday we gathered for a family lunch at the League Café in New Haven to celebrate William's graduation. Then Ann and I spent the afternoon wandering around the Yale Art Gallery and the Yale Centre for British Art, which apparently has the largest collection of British Art outside the British Isles. AND it has a painting of Hadleigh Castle by John Constable.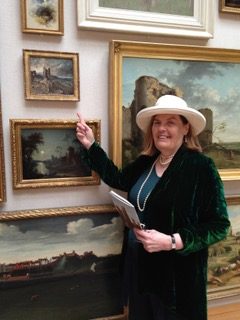 I could not believe it! A large painting of the same scene hangs in Tate Britain London, (click here). I think that Constable took one or two artistic liberties with his subject. Apparently he only visited once, in 1814, when he made a small pencil sketch of Hadleigh Castle. On 3rd July that year he wrote to his future wife Maria: "At Hadleigh there is a ruin of a castle which from its situation is a really fine place – it commands a view of the Kent hills . . ." Anyway, whenever I study his painting I am unable to reconcile the background with what I have observed on my own visits to the Castle. The background promontory sticks out too far.
Monday was the BIG day, starting with the main ceremony with a procession of academics decked out in their colourful gowns and hoods and accompanied by a band. Yale University has fourteen schools, and as far as I could make out, a couple of representatives from each school stepped up to the podium to meet the dignitaries on behalf of their fellow graduates. This was followed by speeches, hymns and prayers before the graduates processed out to disperse to their respective schools for their own graduation ceremonies when the individual diplomas were presented. By now it was raining, very gently but enough to be wet. The graduates were issued with blue plastic ponchos to protect their clothes from any dye bleeding from their gowns.
To end the day graduates and their families gathered at Lighthouse Point Park for supper, photographs and general conviviality.