Only forty-eight days until the Spring Equinox . . . We're just about two-thirds through winter and, so far, the weather has not been too bad. Even the freezing temperatures of the last few days were made bearable by the presence of the pale wintry sun. Ten minutes from my house and I am on the Sea Front and able to walk along the promenade to the sound of lapping waves, breathing in the brisk sea air and admiring the ever-changing seascape. When it is so cold it is very tempting to stay in the warm indoors, curled up with a rug over my knees. However, it is so worth the effort to wrap up well and get outside – even in the fog.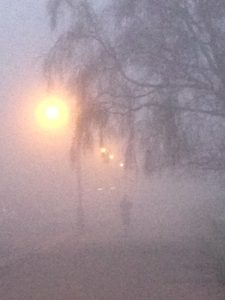 Ever since starting my Pilate sessions I have been so much fitter. Perhaps I was getting too smug as I watched people sneezing and snuffling their way through winter because three days ago I succumbed myself. First the cold, now the cough – so vexing! According to current recommended practice, just a cold is insufficient reason for taking a sickie – parents are even advised to wrap their child up and send it to school. Whatever happened to the slogan "Coughs and sneezes spread diseases"? Yes, I do not feel ill – just miserable. But I do not think that I should be, for example, going to my Pilates session and coughing all over my instructor. So: it is "chicken soup" and "hot lemon and honey" – good old-fashioned remedies which taste nice if nothing else.
Chicken soup:
First I make a chicken casserole in my slow cooker.
Pack of chicken thighs – skinned
Knorr chicken stock cube dissolved in pint of boiling water
1 onion – peeled and chopped
3 or 4 large carrots – peeled and sliced
Pre-heat the slow cooker on "high" for half an hour
Place the ingredients in the slow cooker, top up with more boiling water
After an hour turn the cooker down to "low" and leave all day
Then I strain off the stock, placing two thighs plus some carrot and onion in freezer bags before adding back a little of the stock – meals for another day.
To make the soup you need around half a litre (a pint) of stock. I pour the stock into a saucepan and simmer a sliced carrot in it for about six minutes, then I serve it in a bowl with a tiny knob of butter floating on the top.
Hot lemon and honey.
This dates back to winter days when I was a very little girl. My Mother served the drink in a heat-resistant glass which she had placed in a special silver handle. I would stir the mixture with a teaspoon, taking sips of the sweet mixture while my Mother urged me to "drink it while it is hot, it'll do you more good."
You need a mug or heat-resistant glass
One teaspoon of honey
Juice of half a lemon
Boiling water
Place the teaspoon of honey in the mug. Pour on the lemon juice and top up with boiling water. Stir and then, as the mixture cools, sip carefully.