It was 6:30am and I was awoken by the phone ringing. My Parents! Something must be wrong – they were the only people that called at that unearthly hour. "Hello?"
" Janey, it's me, your Mother. Where did you put my diamond ring?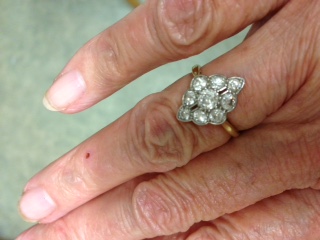 "What ring, Mum?"
"You know, the one that belonged to Gran."
I had not seen it since I was living at home . . .
"Mum, why are you asking me? where do you normally keep it?"
"Well, I did keep it in my sewing cabinet but I had to take it out because the removal men were moving it."
"Okay. So where did you put it then?"
"I don't know, Janey. I thought you had it."
So years later, after my Father died and when my Mother was moving to a smaller flat, I warned my siblings that there was a ring hidden somewhere.
Nothing. No sign of it.
After she had moved, it was my job to help her to sort out her new bedroom. The final items were three shoulder bags that had been tossed in a corner. I looked inside: tights, many packs unopened.
"Mum, you do not wear tights any more do you?"
Of course she didn't. So I picked up the bags to drop them down the rubbish chute. Hang on! Some sixth sense niggled at me, so I systematically emptied each bag to check the contents, There were enough pairs of tights to supply a shop!
I pulled out the last pair and it swung: something was weighing it down. I slid my hand into the toe and found two small boxes. OMG! Not one but two diamond rings! And I was just about to throw them away!
Mum was always losing things – not just her rings. So my sister and I resolved not to do the same. We would have a safe place for an object and always put it back in the same place.
Five Tips on how not to lose things.
1. Always place the item back in the same place
2. Have one designated spot for your mobile phone where you leave it when it is not in your bag.
3. Have a hook on which the car keys always hang
4. If you spring clean, do not find a new home for precious items but replace them exactly where they have always been. (you'll never remember the new location!)
5. Avoid hiding jewellery inside objects that might later be thrown out.
Noice the key word: 'always'? Be consistent and put things back.Never just dump stuf to put away later – that way it is lost.