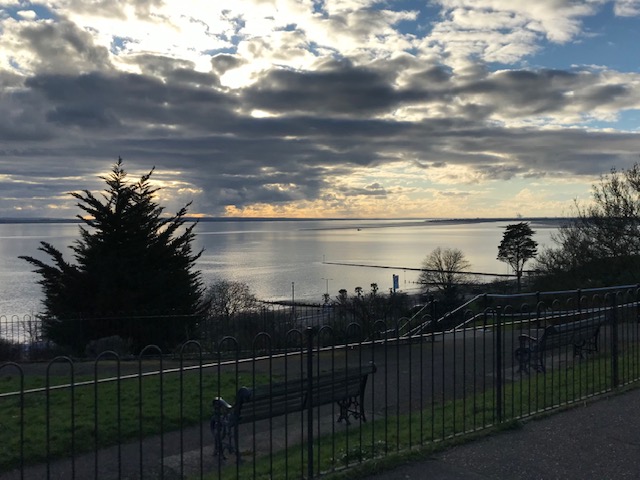 At midnight last night, from the comfort of my easy chair, I watched my neighbours' fireworks display through my window.   2021 has ended. Time to take stock.
REFLECTING: the year began with "lockdown". Did that sacrifice of all our plans actually make any difference? Are we any further forward in our battle against a very virulent virus that keeps changing? I read in the Guardian Online  that "According to a new estimate on Friday from the Office for National Statistics, one in 25 people in England had Covid before Christmas, including one in 15 in London." Judging by the shoppers in my local supermarket, many people are suffering from "Covid burnout". The daily bombardment of information and statistics has overwhelmed them. They no longer bother with wearing masks and ignore requests to limit socialising.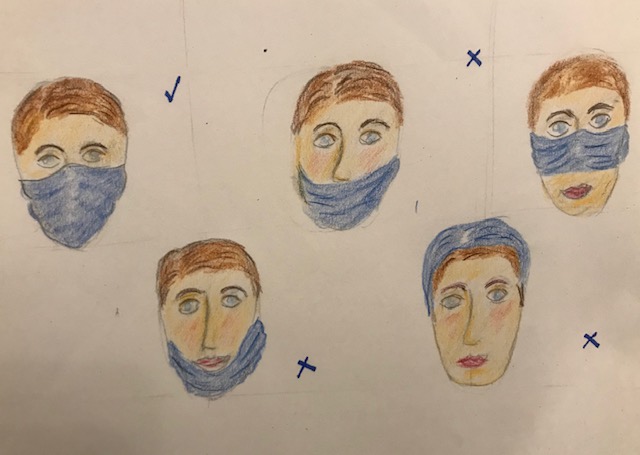 WATCHING: The last thing that I wanted to see on television was one of those ghastly programmes full of bonhomie and good cheer as participants rush around pretending to be enjoying themselves before joining hands on the stroke of midnight to sing "Auld Lang Syne", getting the words wrong. Surfing iPlayer I found the 2019 film "The Return of Mary Poppins" – a fairy tale. Perfect!
READING: The great thing about Christmas is being given books that I would never dream of buying and discovering how much I enjoy them. Last year it was "The Dressmaker of Paris" by Georgia Kaufmann which I thoroughly enjoyed and have just read again. This year it is "Music to eat cake by" by Lev Perikian. According to the blurb listed on Amazon, " Music
to Eat Cake By is the result, a collection of essays exploring everything from the art of the sandwich and space travel to how not to cure hiccups and, of course, his beloved birdsong. Lev considers each subject with his signature wit and warmth, inviting the reader to wonder: what might we ask him to write about next?"
STITCHING: I am blanket-stitching the edge of a fleece scarf for my friend's birthday tomorrow. The trickiest bit is cutting the fringes at each end. The first scarf I sewed I measured the fringe before cutting and it went horribly crooked. So now I just "wing it" and estimate each strip to be slightly less than 1cm wide. Success.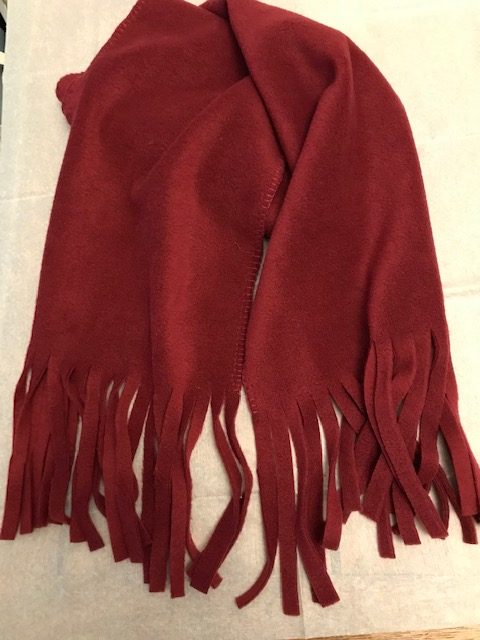 GROWING Christmas means pots and post of glorious red Poinsettias and boxes and boxes of Amaryllis bulbs in all the shops. No matter how carefully I water potted Poinsettias they always wilt. This year my Poinsettia bloomed happily for a couple of weeks then succumbed while I was away for a few days. My amaryllis is shooting up and ready to burst into bloom.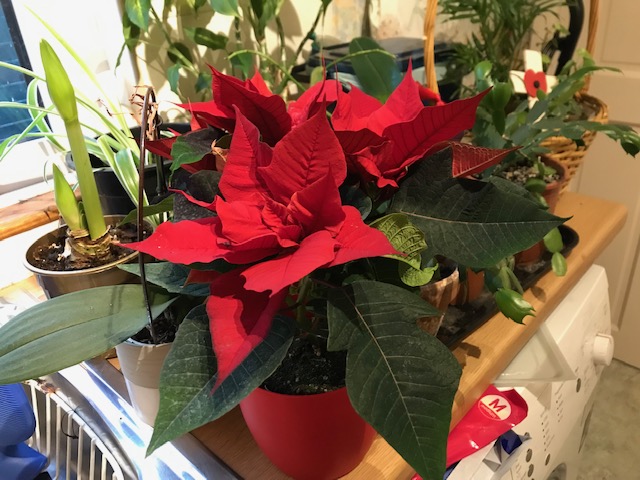 SMELLING My son's niece and her husband gave me an "Oudh" incense burner for Christmas. Lighting the charcoal disc was interesting until I realised that the teeny sparks given off indicated that it was lit and burning. Luckily, I did not test it by touching! Then I added the crystals of Frankincense. I always wondered what that smelt like. Next time I plan to try the amber crystals.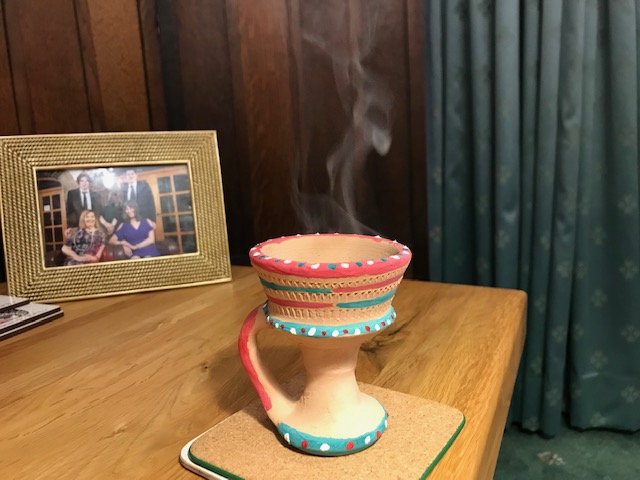 COOKING I treated myself to two new pans this week. I have never succeeded in keeping my ceramic frying pans properly clean so when I saw that Sainsbury's had reduced the prices of "stoneware" pans I decided to buy them. I have already been using a stoneware saucepan for the past eighteen months and am pleased with that. The blurb read "dry fry – no need for fat". I did not quite believe it, so I just smeared a smidgeon of butter across the pan's surface before dropping in an egg. Yes! It fried beautifully and lifted from the pan without sticking.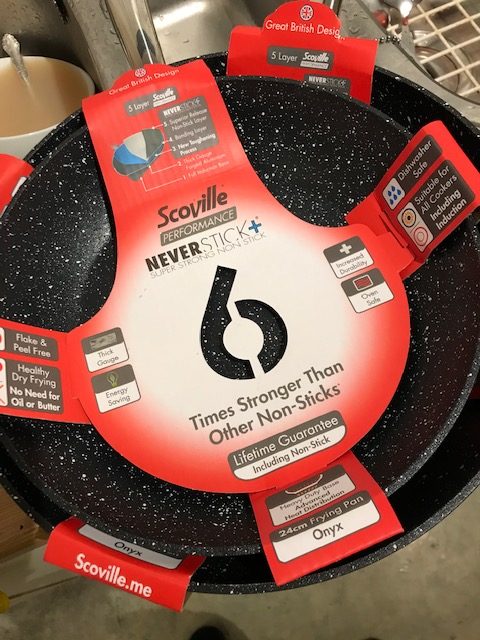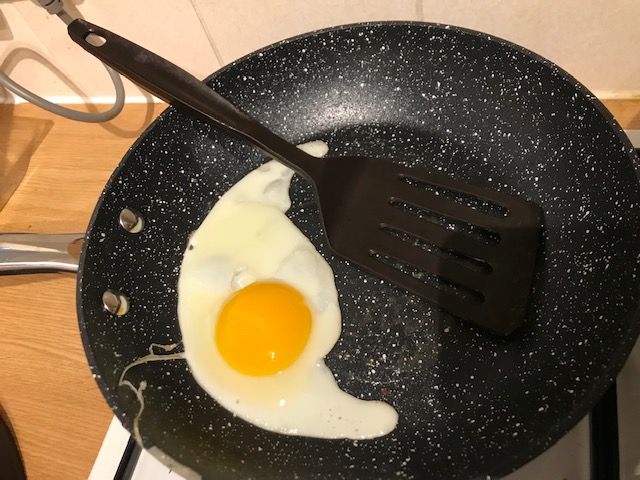 ASPIRING If I had access to unlimited funds, I would treat myself to freshly laundered white cotton sheets every week plus fluffy white towels. Pure luxury. Coming down to earth I have compromised by line-drying my cotton sheets then ironing them myself.  Line-drying my towels leaves them stiff as a board. So I wash them, then take them to the nearest launderette to tumble-dry in one of their vast machines. No, I am not going to buy myself a Tumble-drier. (a) it would mean re-organising my entire kitchen (b)it would be an expensive outlay just to dry my towels and (c)line-drying my laundry is one of my small contributions to help the Environment.
PLANNING So it is 2022. The year stretches ahead of me with so many possibilities – all unfortunately dominated by the ongoing pandemic. The most exciting is an invitation to my son's niece's "Wedfest" somewhere in Europe in the summer.  Fingers crossed for being able to travel! Then I have a standing invitation to Scotland, travelling with a friend. In the Spring I hope to have various family members here to stay. That means that I shall have to constrain my craft projects and somehow confine them behind the door of my Craft Room.
Last but not least, BLOGGING. Am already thinking through my next post . . .
Best wishes to all my Readers!