There is something quintessentially English about a village fete on a bright summer's day. The local church makes a great setting but even better are the grounds of a stately home. Visitors are able to wander at leisure browsing the craft andbric-a-brac stalls, trying their skill on a coconut shy or watching the performances of dancers and musicians.
On 9th July the Earl and Countess of Wemyss and March allowed the grounds of Stanway House to be used for the annual Stanway Summer fete. The weather held and it was a gloriously sunny Saturday afternoon. The first thing to do at a summer fete is to buy a raffle ticket – not only are you supporting the local charities but also you might even win. The second thing to do is to buy an ice-cream cornet, then you can wander at leisure while you lick.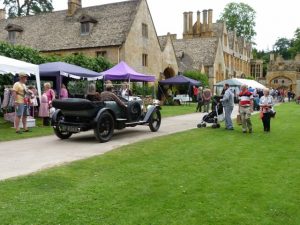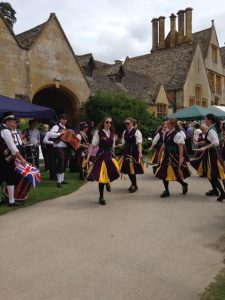 As we wandered across past the stalls a vintage car drove past en route for the show area in the courtyard.   I am always impressed by the loving care that devoted owners pour into their ancient vehicles. However, I do find it a bit disconcerting to find an Austin Six in amongst the oldies. My parents had an Austin – not sure if it was a six or a seven – and they used to drive us between Exeter and Leicester when I was a child. Does that make me vintage?!
A fete would not be a proper country fete without the dancers – Morris or clog. We watched the group of clog dancers skipping energetically accompanied by piano accordionists and a couple of drummers all in traditional garb. It was lovely to observe how many youngsters were in the group.
As we watched we heard the drone of a plane approaching: a Spitfire which circled the area twice before heading back to the airfield. I overheard someone comment: "What connections do you have to have for a Spitfire to fly over your garden fete?"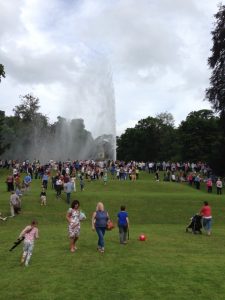 Then we headed through to the rear of Stanway House to watch the fountain. No ordinary fountain – although I am not sure how many of the crowd realised this. The fountain is gravity fed and is the highest such fountain in the World. The spout can reach a height of 300 feet and runs for thirty minutes. Today the wind was reducing the height of the spout, but it was still impressive. We stood well clear of the spray!
By now we fancied a nice cup of tea but the queue at the tea tent was so long that we decided to drift back to the field where the car was parked and make our way home.