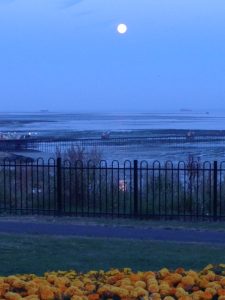 Sarfend – "bingo and chips" – longest pleasure (ha!ha!) pier in the World – my home for the past umpteen years. Why do I stay in Southend? Put the question the other way around: why would I leave?
Yes, of course there are faults in this town. Just eavesdrop on any group of us enjoying a cuppa and 'putting the world to rights". But these problems are common to any large town: parking, rubbish, anti-social behaviour . . . They lose their impact when you take a walk down the cliffs to the Sea Front. No, of course it is not actually sea –side. More like 'estuary-side' since the town grew up at the mouth of the River Thames. The stony beaches stretch for nearly six miles, sloping down to mud flats that are exposed at low tide.
The rivulets of water gleaming on the sunlight provide excellent subjects for artists to capture BUT are of no appeal to paddlers and swimmers. The Victorians installed a breakwater to retain a shallow pool at low tide at Leigh and now Southend Council has built a "lagoon" to the east of Adventure Island. Is it any good? Have not tried it yet . . .According to the local press, the jellyfish approve. Naturally the residents are up in arms, busy complaining, but jelly fish have always swum up the Thames in the summer.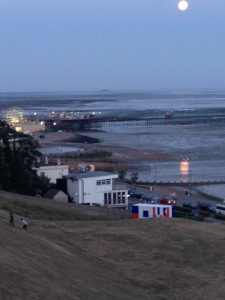 It is the middle of August already. Time for the Carnival Procession. Notting Hill is famous for its annual processions, with fantastic and glamorous costumes. The parades in New York are amazing. But English seaside towns seem to have lost their enthusiasm. They blame "lack of funding" but it is more like lack of motivation. Not only do people not want to decorate a float or dress up to participate in the parade, they do not even bother to get down to the Sea Front to watch it. Mind you, this year the weather was really unco-operative. A strong chilly breeze blew up in the evening, causing many families to abandon the idea of watching the procession all the way through to the end.