The main purpose of my Hawaiian trip was to see live coral for myself – especially after all my efforts creating coral from crochet in 2009. I had not given much thought to snorkelling, but the mask requires the user to breathe through their mouth. I practised a little in the pool but not enough. It is one thing to breathe through a new contraption in calm, clear water with my feet on the bottom but an entirely different matter when struggling with surf, undertow and wearing flippers for the first time. My sister and her husband were so encouraging and supportive but I just could not do it. I ran out of breath, my stomach muscles ached and I just wanted to be back on terra firma.
Later, sitting quietly on a rock I tried on the mask and practised mouth-breathing.
On the Tuesday we went snorkelling from a boat, the "Quicksilver", at Molokini Crater. During the hour's journey we saw several "blows" and also many "body parts" as whales jostled each other, competing for the same female. The boat rented out wetsuits, so I decided it would be warmer to wear one and hired one. Now I would have to go into the water! After everyone else had descended the steps down to the sea it was my turn. The water was crystal clear. And I went in.
I breathed steadily through the mask and lay flat on the surface of the sea, looking down. There were yellow and black fish darting amongst the coral far below. It was so lovely in the water. I hadn't been to the beach for so long that I had forgotten how great it feels to be swimming.And I did it! I snorkelled.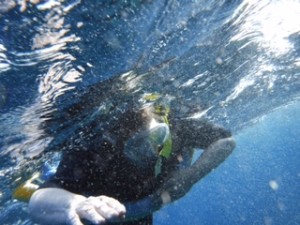 On the final day of my trip I opted to visit Makena Landing to go snorkelling once more. The sky was just lightening as we pulled up at the bay. Right there, on the rocks below us was a massive turtle grazing on the rocks. These huge creatures are a wonderful advertisement for vegetarianism – but it must take vast quantities of algae to sustain them. I perched on a boulder to watch the turtle. I watched my sister and her husband snorkelling. I watched numbers of other swimmers entering the gentle waters of the bay to swim, snorkel or dive. Then it was my turn. I picked up my frog feet and mask and went down to the water's edge. After I put on my mask Dan put a flipper on each foot for me, then I eased my way backwards into waist-deep water, flipped onto my tummy and kicked my flippers. So easy! What had all my trepidations been about? I breathed. I kicked. I looked down and saw coral, and fish – pretty yellow and black ones; grey ones and trigger fish. Further out I saw sea anemones on the rocks. Then a turtle swam into view. I clung to my little sister as she assured me that the turtle was not a threat. Dear me. How pathetic was that?
I still cannot quite believe my achievement: I snorkelled. And I swam over live coral. An amazing experience – not to be missed.