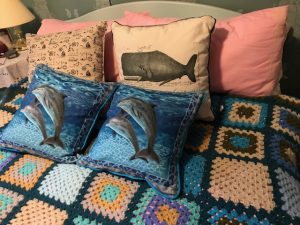 Did you get enough sleep last night? Come to think of it, what is "enough"? I have always thought that eight hours was the normal amount but what is 'normal'? Does the daytime narcoleptic napping affect my night-time sleep? I do not think so: when I was working I would go to bed somewhere around 10:30pm and be awake 6:30am- ish. Now that I am retired I try to stick to that pattern but sometimes I'll read until 2 or 3 am just to finish the story. And, unbelievably, I do stay awake!! After tumbling into bed in the early hours, I then still wake up when it gets light, but allow myself a lie-in to try to catch up. If I am anxious about anything thing then I wake every hour – or even more frequently. Clock-watching in the dark is a most miserable activity.
So back to my current sleep patterns. No, I do not sleep through the night. What happens is that I stay in bed seven to eight hours and, luckily, feel rested. For some reason I frequently wake briefly, turn over and go back to sleep. After about four hours I'll wake up more thoroughly but can usually get back to sleep. However, if my brain is whirling with thoughts at 2am, I come downstairs to make a cup of tea and jot down my ideas then return to bed an hour or so later. Apparently this sleep pattern existed back in history. In 2001, historian Roger Ekirch of Virginia Tech published a seminal paper, drawn from 16 years of research, revealing a wealth of historical evidence that humans used to sleep in two distinct chunks. His book, "At Day's Close: Night in Times Past", published four years later, unearths more than 500 references to a segmented sleeping pattern – in diaries, court records, medical books and literature. . .
Fascinating – rather vindicates my habit of spending an hour awake doing something. And reinforces the basic feeling that I have always had that I do not need to worry. Tomorrow is another day or rather tomorrow night is another night. I'll be fine.
Five ideas for helping to get a good night's sleep.
Eat supper before 6pm – no snacking later.
No tea or coffee after 7pm – drink water.
Sleep in a cool room. Turn off central heating and open the window.
Avoid looking at computer/ phone screens for a couple of hours before bedtime.
Keep a pad and pencil on bedside table in order to sit up and jot down any persistent thoughts/ worries and 'take them off your mind.'