"In 10 sessions you'll feel the difference, in 20 you'll see the difference, and in 30 you'll have a new body" by Joseph Pilates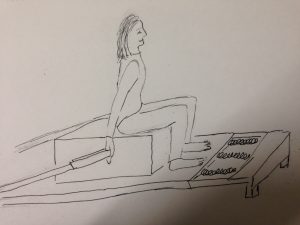 And guess what? Monday was my thirtieth session. I walked out of Sam's studio with a bounce in my step feeling fantastic – mind you, that was helped by the massage I had after my exercise session. Do I have a new body? I guess that Joseph Pilates was not actually being literal. My body is about eight pounds lighter and an inch or so narrower around the waist. I feel fitter and lighter – it is almost as if I have grown an inch taller.
Keeping fit is not easy. I walk as much as possible, I practise Tai Chi then I noticed that I was losing flexibility. My right leg refuses to cross my left leg. When did that happen? And as for getting up off the floor – something I used to do with ease because I always sat on the carpet with my back tucked up against a warm radiator – well, I do not even know where to start. After four months of Pilates exercises I get down onto and up off the reformer without thinking about it. And I get down onto the carpet at home to practise the cat stretch. My right leg will lift across the left knee, but no further. "Work in progress" as they say. Of course the wear and tear on my joints won't go away, but if I continue to improve my core strength recovery from any replacement operations should be so much quicker.