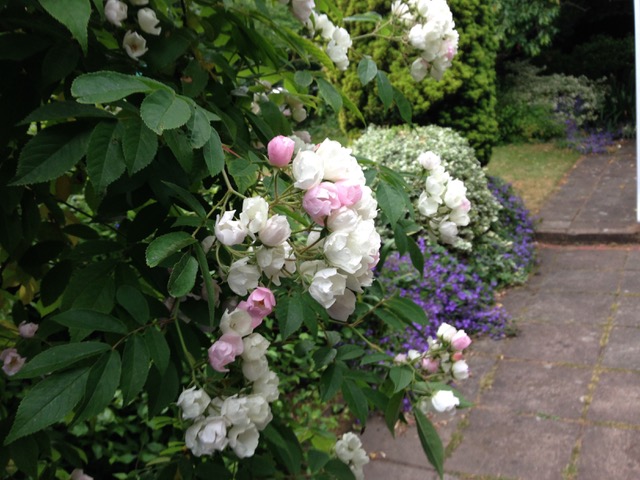 Awoken on Mid-summer's day by an enthusiastic dawn chorus I was up at the crack of dawn. I have had to put tidying my craft room on hold, (yay!!), while I am pet-sitting for my son's family's dog and cats. Having the free run of someone else's home involves a delicate balance of establishing a satisfactory routine for myself without disturbing the rhythm of the homeowners. And it's a teeny bit nerve-wracking in case I get something wrong – but at least the dog and cats can't tell tales! This must be my fourth time of pet-sitting with these particular pets, so we are familiar with each other and I know their routine. However, they are beginning to age. Alfie, the black retriever is nine years old and the two Burmese cats are twelve. My favourite, Pebble, a pretty sandy-coloured female has lost weight, although the Vet declared at the last visit she had not lost any more since the previous visit. Thank goodness. I had visions of struggling to dig a deep hole under the shrubbery to inter her remains and breaking the bad news to the Family . . . No! She is eating and still drives me crazy by sitting on the newspaper that I am trying to read and attacking my fingers.
So the first evening of pet-sitting I settled into a chair to watch television. This is not as simple as you might imagine because I do not have a TV set and am unfamiliar with the system. After carefully following my daughter-in-law's written instructions I found "Midsummer Murders" and settled back. Plonk! Plonk! Two furry felines landed in my lap and jostled for position. Not to be outdone, Alfie lay at my feet. At the very moment the victim was about to be dispatched, Bramble threw up. Worse still, Alfie leapt up to assist by licking up the regurgitated mass. Yuck! Gross! On the other hand, it was quite helpful because we managed to restrict the mess to my clothing and get none on the carpet. By the time I had cleaned myself up there had been two – or was it three? – more deaths. At this rate the script writers are going to run out of inhabitants – although I guess Midsummer must be quite a vast region. On the other hand, does any English county actually have three or four murders a week? What are the actual statistics?
So: 'Google' says cats may regurgitate because they eat too much and too fast. I have given Bramble a smaller portion and pressed the food flat to try to slow him down. And I have shut most of the doors to restrict where he goes, just in case he makes a habit of throwing up.
Pet-sitting has its lighter side. At bed time two cats appear at the cupboard door where their food is stored, prowling hopefully for a treat. Now I know what to do: block the cat flap with the rubbish bin. Shut the cats in the kitchen and leave the dog in the hallway with the living room door open in case he decides to sleep in there. The first couple of evenings all went well. So on the third evening I left Bramble curled up on a chair, Pebble in her basket and Alfie stretched out at the foot of the stairs.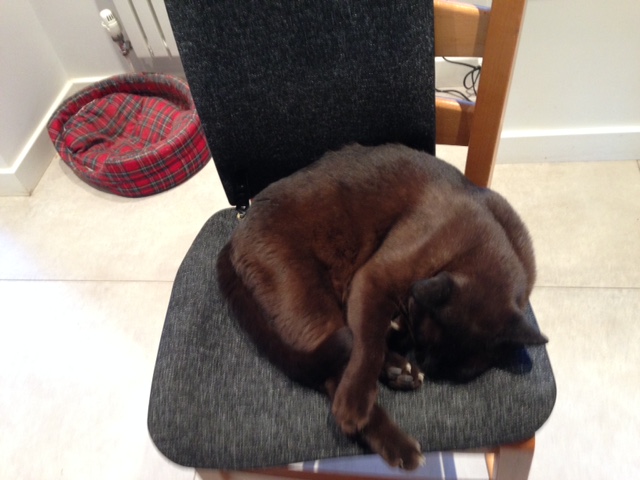 When I came down next morning, Bramble had completely disappeared. The kitchen and back doors were tightly shut so where was he? As I searched behind the kitchen sofa and on top of the cupboards I heard a plaintiff loud mewing at the front door. How on earth did he get outside? I took another look at the food bin. Ahah! He had managed to push and squeeze his way behind it to escape through the cat flap.
On weekdays Lucy walked Alfie, but how could I explain to him on Sundays that she was not coming? Perhaps I am too much of a softie, but watching him waiting expectantly by the front door led me to a decision. I would walk him myself. The exercise would benefit me as well – although I drew the line at taking a dip with him in the Bushy Park pond. Only one snag: Alfie is a very friendly dog and I was anxious about the deer. Right now the grass is so high that it is well-nigh impossible to spot any creatures lying down but luckily other dog walkers will pass on information if there is a herd nearby and there is time to put your dog back on his leash.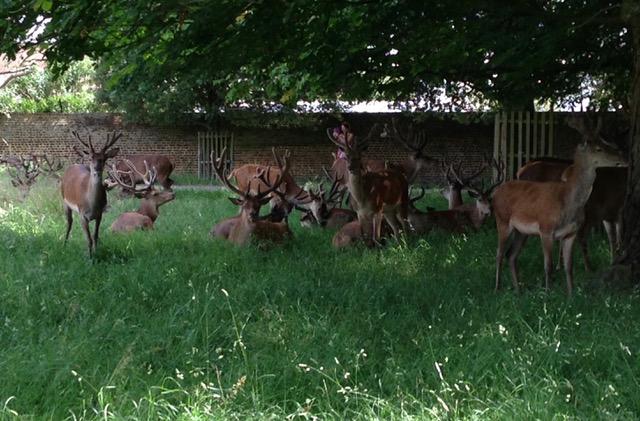 On two Sundays I walked to the pond by turning left at the gate and circling round to return by the path leading to the Cricket Pavilion. So the third time I decided to reverse the walk. I was happily sailing down the path from the Cricket Pavilion with Alfie trotting beside me, periodically making a little foray to sniff an interesting patch of grass. We came to a junction and I was about to keep going straight ahead but Alfie had turned and was waiting for me to go left. I realised he was correct: this was the way to the pond and we were nearly there. However did he know?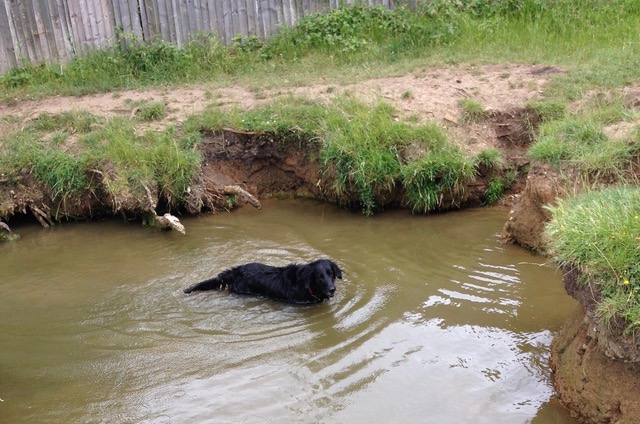 Pet-sitting satisfies all my yearnings to have a cat or dog of my own. I am enjoying the freedom of retirement and am not yet ready to be restricted by the needs of a pet.