Sun rise at this time of year is round about eight o'clock, so I set my alarm for seven to make sure I could catch the sunrise on New Year's Day. Town was eerily quiet just before dawn. Not a soul moving and only one solitary car passing by. As I reached the cliff top three youngsters went by, still cheerful after seeing in the New Year. Then I passed a lad slumped on a bench. Sleeping it off? Maybe – he did not raise his head. Not homeless, I think – they tend to shelter in doorways.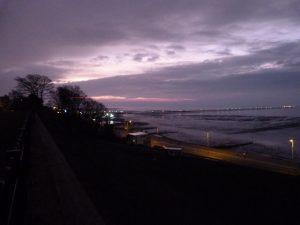 The sky lightened, with a streak of rose in the east. Still no-one about apart from a couple of street cleaners. Seventeen years ago I followed the same route down to the Sea Front to greet the dawn of the new millennium. SEVENTEEN years! Can't believe it was that long ago. A time before nine eleven, when terrorism generally meant the IRA and they usually sent out a warning before setting off their bombs. Today terror is truly terrifying, with the perpetrators prepared to sacrifice themselves in their devastating acts of murder and mayhem.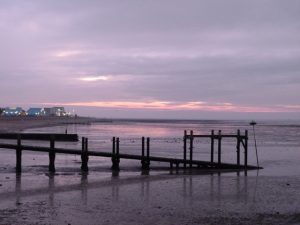 What will 2017 bring? Who knows!? Life in the UK has been completely shaken up by the vote to leave the EU last summer. Why ever didn't I buy my travel dollars before the referendum? Now I will only get about $1.20 for each of my pounds. My New Year resolutions? Well, I do not believe in making myself promises on the eve of the new year then forgetting two weeks later . . . but I am resolved not to spend time fretting about things beyond my control. "Brexit" "Trump" – this time next year we will know exactly what they imply. In the meantime I intend to focus on family and friends and keeping myself fit.