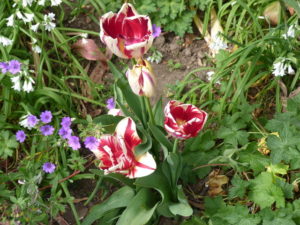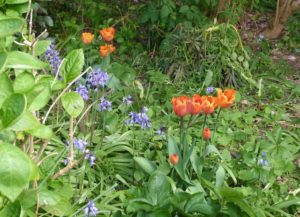 Were you surprised by the glorious sunshine over Easter weekend? It was still a bit chilly down here on the Thames Estuary so when I packed for the weekend I was still in "winter mode". Fortunately I always pack garments that layer – so on Easter Monday I walked in Bushy Park wearing just leggings and a sleeveless tee and carrying my fleece. Travelled home the following day in my dress but was very glad to have the fleece by the time the train reached Southend. Those Sea Breezes certainly lower the temperature! That was two weeks ago and it is still cold. As the old proverb goes, "Ne'er cast a clout till May be out". No-o-o!! Of course I am NOT referring to a certain leader of the Tory party. I am referring to the blossom of the May (Hawthorne) tree or the actual month of May itself. I favour the latter: then we get "flaming June' and with any luck the weather will be warmer. Meanwhile I am sitting here snug in my cosy cashmere sweater.
Picked up a free "Evening Standard" at Waterloo Station on the way back from my Easter weekend away. I am getting better at going straight to the Sudoku puzzle and ignoring the "gloom, doom and disaster that fills our media nowadays. An article in the Guardian Online the other day: something about foreign students being deported for cheating on an English test. The article implied that very many students swept up in the deportations were completely innocent of any wrongdoing but have absolutely no right of appeal . . .. I had to stop reading. I cannot bear injustice and Our World seems to be getting more and more an unjust place to live. Life isn't fair!
Enough! My WI friends found a quiz to test our carbon footprints. They scored 92% and 108%. I scored 118%. mmm! What does that mean? I do not drive any more, do not own a tumbler drier or dish-washer, I re-cycle all that I am able and last year I did not fly anywhere. So is my apparently high score better or worse than theirs? In fact, what exactly is the score measuring? I do carry my re-usable mug when I travel – for one thing I do not actually like drinking out of polystyrene cups. I wonder about what chemicals might be leaking out. And I carry a water bottle which contains tap water. What is this obsession with buying bottled water? Here -in the UK – where tap water is clean and definitely drinkable? Another thing that I am curious about is the amount of water that people consume nowadays. For the first three quarters of my life I never paid any attention to water and definitely never carried any with me. Perhaps I should have done . . ..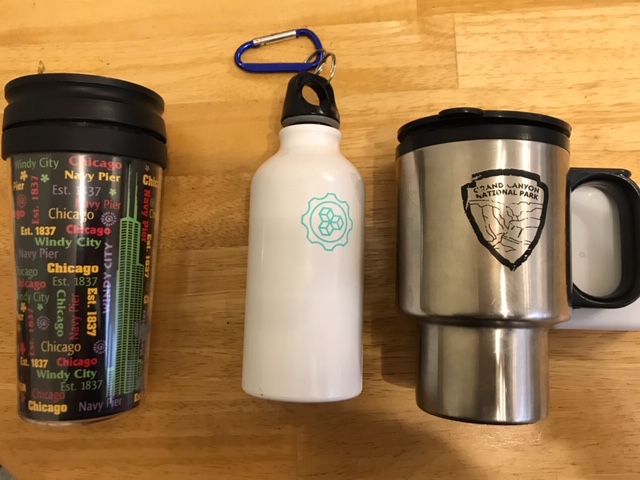 The tulips and wallflowers are just about are past their best now, but two weeks ago at South Shoebury Hall "Open Garden" they were lovely. May is the month when my garden wakes up and I start to wage war on snails AND sycamore seedlings. The large trees two doors away were self-seeded in the first place and now they are determined to turn the area into a grove of sycamore trees. Besides the three seedlings in the drain I also pulled up another nine from my flower beds. The rain has stopped so am off outside to plant out the geraniums I bought at The Garden Centre yesterday.