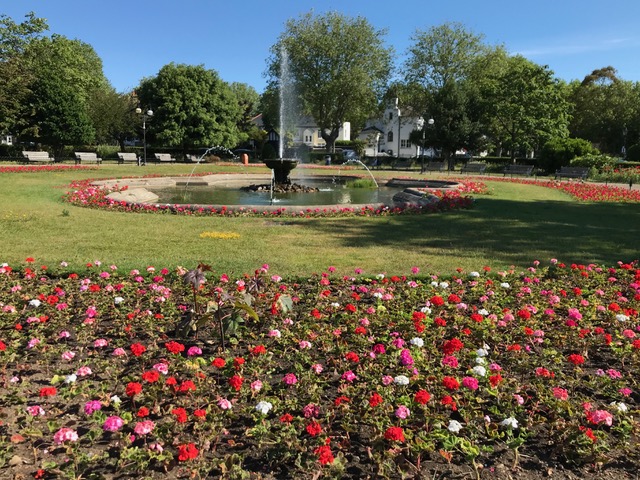 "Ne'er cast a clout till May be out"
Since there is no May blossom nearby for me to observe I have always taken the rhyme to refer to the month of May. So at the start of June I carefully washed and folded my winter garments ready for storage and retrieved my summer outfits from the leather suitcase where I store them. And, oh joy, I switched off the Central Heating – a true sign that summer. Except that it wasn't! After a few days of glorious sunshine the weather reverted to winter. Unable to stave off the chill with a hot water bottle and a rug around my knees I gave in and switched the heating back on. Am unsure why I feel guilty I using heating in June but I just do.
We are half way through the month now, and the sun has returned. Phew! Now, of course I can do the traditional English 'thing' and complain that it is too hot. But I shan't because there is shade in my garden and sunshine just makes me feel good.
"Lockdown" has meant such a change to my day. Unable to go out to meet friends, go to my exercise class or pop on a train to London for the day I am stuck indoors with the day stretching before me. Why is it that I achieve so much more when working under pressure? Now, with the whole day in which to complete a task it just does not get done. When you grow up with the "Protestant Work Ethic' it is so difficult to let go of the idea that you ought to be doing something. I notice comments on Social Media how people are relishing this opportunity to spend all day in casual wear even when working from home. But that does not suit me. Hanging about in my dressing gown reminds me of being ill! Old habits die-hard and I need to be properly dressed to feel good about myself. And I fare much better if I follow a routine. Up at a reasonable hour, exercise and walk, eat breakfast, tackle a little housework then potter in the garden where I have the tiniest of vegetable plots as well as a tangle of flowering plants which need dead-heading and weeding. And there is also my daily Duolingo Spanish practice.