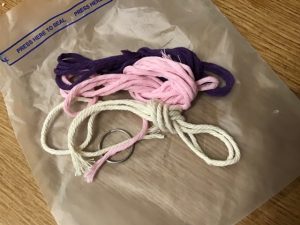 Everyone knows that sailors could tie knots. They had to – their lives depended on properly tied ropes. But how good are you at knotting? At the May meeting of my local Women's Institute it took members a few minutes to settle down and make their first knot. All we head to do was to fold each of three strings into half then knot the three together through a ring – easy peasy. No! My ring fell on the floor. Of course I am able to attach a loop of threads to a ring! I realised that I had taken the loop right over the ring . . . So I started again. I also realised how lacking in confidence, many members were when it came to "crafts". They were unfamiliar with the terminology and apprehensive of being unable to do it. When shown individually they were amazed. "Oh! That's what you mean . . ." Committee Member Jo stood at the front to demonstrate how to take three double cords to work "flat knots" and make a key ring. Not only did members manage to knot their strings, many realized that the task was easier if the work was suspended from a coat peg.
Back when macramé was the latest craze I went on a course and knotted a shoulder-strap bag which I eventually gave away – pity. However I still have a wall-hanging and a belt that I made. Thereby hangs a tale: I went on an exchange trip to Denmark that summer and my hostess much admired my belt. So I decided to surprise her and make her one. I borrowed her bike to cycle to the shops. No brakes! It was a "fixed wheel bike" so to stop you had to pedal backwards. Despite that and riding on the "wrong" side of the road I survived the journey. I browsed each shop window in turn until I located a shop with a ball of string in the window. With a combination of hand gestures and pointing at my belt I managed to convey my requirements to a very patient shop assistant. "Ah!" she exclaimed, "Sisal." So my hostess got her belt.
I didn't really want another key ring, so when I got home from the WI meeting I unpicked my work, cut some more lengths of string then started work on a plant hanger. I notice that knotted plant hangers are all the rage in the stores right now. Next I have to buy a small plant so that I know what size to make the finished hanger.