What is your image of the Women's Institute? Older ladies? Making Jam? Knitting? Singing Jerusalem?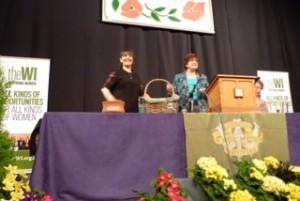 No! Not today – one hundred years after the institution was formed. The groups are as diverse as you can imagine: from genteel afternoon village groups to boisterous, energetic and young town groups. And yes, many members sing "Jerusalem" – as tribute to the suffragettes. Some groups make Jam or, rather, they have a speaker who demonstrates how to make jam. To quote from the WI website:
"The Women's Institute (WI) was formed in 1915 to revitalise rural communities and encourage women to become more involved in producing food during the First World War. Since then the organisation's aims have broadened and the WI is now the largest voluntary women's organisation in the UK. The WI will celebrate its centenary in 2015 and currently has 212,000 members in around 6,600 WIs. The WI plays a unique role in providing women with educational opportunities and the chance to build new skills, to take part in a wide variety of activities and to campaign on issues that matter to them and their communities." Above all the WI sets out to inspire women and it attracts inspirational women.
Why did I join the WI? Well, six years ago I learnt that a new group had been set up at a school some 10 minutes from my home. I had been searching for a group to join so I went along. Made an impression on the group because as I sat down I accidentally triggered the personal alarm that I carry on dark evenings. All eyes turned to locate the source of the high-pitched wail as I hastily grabbed my things and hurried out of the hall to retrieve the alarm from my coat pocket and switch it off. I enjoyed the contact with women of all ages and from all walks of life so much that two years later, when a second group opened up, I joined that one as well. The two groups have the same format but are so different. Cannot exactly identify what it is but the second group definitely has a different feel. Anyway: back to inspirational women. This was the theme of our latest meeting. Our new president and the Committee set up the evening so that not only would she interview ten members to draw out their stories, every member would join in a couple of tasks to assist us in meeting new people. I was fascinated to hear one member tell of her two years cycling through West Africa with her partner. Another member works at the stage door of the local theatre. Yet another member had run a marathon while two others had cycled 62 miles. Then there was the member who achieved her life-time dream of working for a women's refuge while an intrepid adventurer had learnt to scuba dive aged 58 and still dives 14 years later. One of our lovely bubbly members told us about her inspirational work with adults. She takes them into her home to teach them life skills. And those were the ladies who came forward. As soon as you start to chat to individual members you realise that all of them have inspirational tales of their own. A group of ladies who joined us late were still wearing their running gear.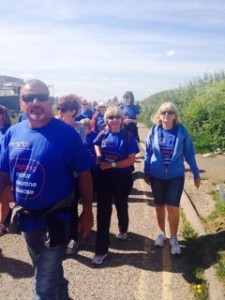 To quote from Westcliff on Sea WI: "From hoteliers to decorators, teachers to full-time mums, there isn't a typical member of Westcliff  Women's Institute (affectionately known as WosWI). We come from all walks of life, and cover all age ranges too . . .. what we do have in common is a dedication to having fun, enjoying the company of interesting women, broadening our horizons and occasionally indulging in the odd tipple."
Definitely! I go to meetings to meet inspirational women, chat, learn something and above all to have fun!