I have a very nice Fedora, so I decided that it needed its own hat stand –  at the moment it is dumped on top of the coat rack. And if I had a dedicated hat stand then I could also use it as a display stand for my knitted hats at Craft Fairs. I found a polystyrene head in the local beauty supplies store – so now all I needed was some way to decorate it. This is where "Google" is so useful. As a result of my searches I decided to "découpage" the entire head in purple tissue. Of course, it had to be acid free with the colour guaranteed not to bleed. And the recommend glue was called "Modge Podge" – such a satisfying name. While browsing in the kitchen department of The Range I discovered a kitchen-roll stand which was perfect for my head, and gave it more stability.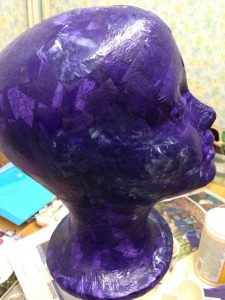 So far I had spent £5 on the head, £2.99 on my hat stand, £12-95 on a large jar of Modge Podge and £ 1-25 on tissue paper. That is £22-19 – although I still have three quarters of a jar of glue left over.
Tissue is not the ideal medium for découpage: it soaks up the glue too quickly and then wrinkles. I allowed each layer of tissue to dry then smoothed out the worst of the wrinkles by rubbing with sandpaper. As a final touch to the head I stuck on a few dried pansy petals then covered the entire head with two coats of Modge Podge.