"The Hāna Highway runs along the east coast of Maui, curving around mountains and passing by black sand beaches and waterfalls. Haleakalā National Park is home to Haleakalā, a dormant volcano." Wikipedia is such a useful starting point to find out information and get the correct spelling. According to the Tourist pamphlet there are 59 bridges across the rivers that flow down the mountainside into the sea and the Hāna Highway has 620 curves. The road leads you through flourishing rainforests, flowing waterfalls, plunging pools and dramatic seascapes.
We decided to take the trail at Waikamoi Ridge just past marker 9. According to the guide book this is an easy trail, no hiking boots needed. (Click here) I managed the first part of the trail easily. After all, it was steps. Managed the second part of the trail reasonably easily but a bit cautiously: raised tree roots all the way with a steep drop down the slope on the right. Then the trail grew muddy. Is it being a wimp to be terrified of slipping? Am I that out of condition? So I turned back. But I did see the breadfruit trees and the stand of red eucalyptus.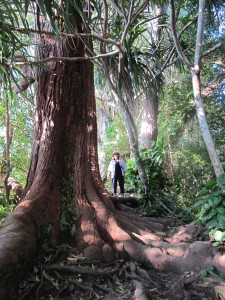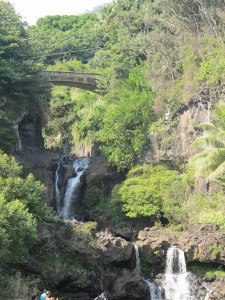 The tumbling waterfalls that run down the forest slopes the sea often result in calm, stagnant pools where intrepid swimmers like to frolic. I debated taking a dip when we followed the trail to a tempting pool. I watched in amazement as a brave – foolhardy? – young lady jumped from a rock about 20 feet above the pool. The water looked so inviting. Ah! One drawback. I could definitely get INTO the water but could I climb out again? Mmm . . . Maybe not.