"You should get a dog. They are good company."
Well – yes, but they are also a tie I decided long ago that a pet dog or a cat would restrict my freedom, in particular my ability to "get up and go" if the whim takes me. My friend is away for a month  and the first thing she had to do was sort out her bubbly, bouncy pup. Pocho is a cross between Bichon Frise and Poodle, with a soft, soft coat and a delightful personality. While his owner is absent on 'granny-duty', he is a weekly boarder at the dog-trainer's home. Weekends he returns to be with his owner's adult son, Ian. However, there is a two to three hour gap in handover times on Fridays so he comes to me. Complicated? I said that a pet dog is a tie!!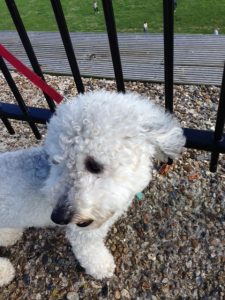 Pocho was delighted to see me last night, especially since my coat was already on and I mentioned, "Walkies". We set off in the evening sunshine, hair and dog fur ruffled by the summer breeze. If Pocho had his way we would stop to mark every tree and every lamppost, so I walk as briskly as I am able to keep him moving. We are out for a WALK – not a 'sniff around the tree trunks' session. Summer evenings in Southend are special; the sun shines, the sea breeze sweeps way cobwebs and the vista over the Estuary lifts your spirits. Pocho? Well, he trotted along beside me, savouring all the new scents and enjoying the occasional scratch around when allowed to stop. Three miles later, as soon as we turned the corner for home, he started to pull. I turned in at my house and he was most perturbed. He clearly wanted to go on to the house where he lives.
I gave him a drink of water then opened the back door so he could go out if he wanted. No way! He retreated back down the passage to the front door, tipped out his bag of stuff then settled on top of the contents to wait. Where did I go wrong? When he heard me working in the kitchen he reappeared, just in case I dropped something edible. Did I? Well it was a very small bit of cheese. Then he went back to his post to wait . . ..
When the doorbell chimed he was up like a shot. I opened the front door and he leapt into Ian's arms. So much for the three mile walk . . .