What was it I wrote on 11th July? Something to the effect "Dog and cat sitting should be so easy, but those of you who live with animals know that life with pets does not always go smoothly. . . "?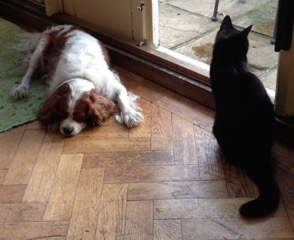 So here I am, at my friend's house with the family's dog and five cats. Dizzy is a well-mannered, gentle Cavalier King Charles spaniel and there are two black fluffy cats, two black and white cats and one ginger. Luckily I am okay with the pets sleeping in my bedroom – I decided that it would be simpler to allow the animals to follow their usual routine. So on Day One I awoke to noisy rhythmic breathing as the spaniel slept on the chaise long next to a black and white cat and a black fluffy cat was curled up on the other side of the vast six foot bed where I was tucked up. Ah! That is why there was a loud bump in the night when I turned over: said cat was originally lying on my feet. Clearly a quick learner!
The animals have helped me to keep on schedule as regards feeding. As soon as I get up in the morning, and again around five-thirty, cats suddenly materialise from their haunts and hover in the kitchen looking optimistic. If they think I have not understood their demand they will jump up on the sill of the picture window to skulk by their empty plates. The bravest will even try to eat from the spoon as I measure the food out. I am doing my best to ensure that all five are fed – it is easiest to notice if the ginger cat is missing.
It is now Day Six and, just as I was smugly congratulating myself on a quiet week, the pets gave me a hard time last night. I awoke to the dreaded noise of an animal heaving on the landing – all you cat and dog owners know that sound. My first thought was: the new carpet! So I fell out of bed to drag the offending animal onto the bedroom floor. Mess would be easier to clean up on the wooden surface. Too late! It was Dizzy and he had spat up something – not much, and it was easy to clear up. By now I was thoroughly awake so I went downstairs to make a cup of tea. Three cats appeared looking for their breakfast. How do you tell a cat that it is only five o'clock?
As I returned upstair I spotted a brown lump on the stair tread. Oh my goodness! More mess? No! As I bent down to inspect it I discovered a frog. When I released him onto the lawn he jumped away, only to be pursued by two of the cats. Oops! I expect it was one of them which had brought it in. So I chased across the wet grass to catch it again and dropped it onto the lily pads in the pond. Back to bed at last – to sleep until a more civilised hour.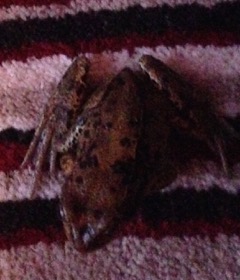 Now I know how to walk a dog: after all, I watched Barbara Woodhouse in the early 1980's and also my daughter-in-law took me to dog-training when she and my son bought their retriever. So the dog must walk beside its owner, on the left. The owner holds the lead in her right hand with the left hand resting against the lead just in case there is a need for extra restraint. Dizzy has an extending lead, so the temptation is to let him run ahead. I tried retracting the lead as far as possible, but this meant that my left hand was resting against cable. There just was not enough proper strap. So I have bought him proper 'fixed' lead. I am proud to say that Dizzy trots nicely beside me. When we reach the local footpath with shrubbery on both sides, I put him on the extending lead so that he can explore. What with walking Dizzy and walking back to my own house to water the planters I am achieving my ten thousand step a day with ease. No, I am not about to buy my own pet. That is the joy of pet-sitting. You are able to hand them back!