Are you guilty of deploying displacement activities when faced with a task you do not want to settle down to?
So far, today I have had half a dozen cups of tea and three cat naps . . . Why? well not only do I have a house to tidy up ready for a guest but also I have Day 9 of the 30 Day Blogging Challenge which so far is defeating me. All of you familiar with narcolepsy will recognise the ease with which I slide into a nap to avoid tackling something that I dislike. In fact, I am starting to feel dozy right now. Maybe a quick lie down? No! that would make FOUR naps but if I press on and finish preparing the guest room the sheer satisfaction will spur me on. Then I can return to the blog.
Looking over my blogs for the past week I notice that the most read was the one on narcolepsy on Day 4 and the second most read was on crochet on Day 8. Ironic, actually, because I find crochet a very helpful way to keep myself awake during meetings or seminars. Working with just the one hook is more discreet than knitting which requires two needles and has a tendency to click. Mind you, people react differently and may be offended – suspecting me of not paying attention. However when I admit that I crochet to stay awake they think that I am joking.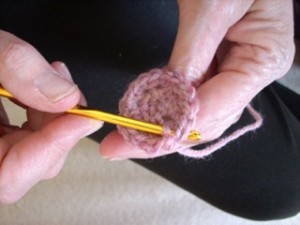 About twenty years ago my son found an article in the New York Times about a lady medical student who liked to knit during lectures because it assisted her retention of the topic. However, her tutors insisted that she stop. What I find very interesting is that when I resume my crochet after a previous session I can recall clearly what I was listening to on the radio at the time. There does seem to be some sort of link to memory and retention.