What do you think of when you hear the word "crochet"?
Doilies and Granny Squares?
Right?
No, wrong!
When artists combine a traditional medium with their imagination, something wondrous is created. And when you factor in mathematics the result is truly stunning.
The "Hyperbolic Crochet Coral Reef" at the Hayward Gallery in London back in 2008 blew my breath away. The installation came from a collaboration between The Craft Council and The Institute for Figuring, [www.theiff.org ] Amazing crochet forms that so closely resembled coral. Stunning colour combinations. Clever use of different yarns – including plastic. So I stayed behind that evening to attend a crochet workshop, sitting with my friend Elizabeth and a score of others and the instructors. We selected a hook from the pile and a ball of yarn from a black sack and carefully started with a small ring of single crochet. Then for the second and subsequent rounds all we had to do was to double crochet twice into every stitch. At first, all that produced was a flat disc, then suddenly it started to convolute. So exciting! To coin a phrase, I was hooked!
Back home I felt inspired: I would crochet my very own reef and display it at the local Art Trail the following summer. For over six months I scoured the shops for yarn that was on sale and worked the satisfying convoluted shapes at every opportunity. While staying with my Mother I cut her vast collection of plastic shopping bags into strips to crochet with them. Then I surveyed the heap of finished pieces and wondered how to make a 'reef'.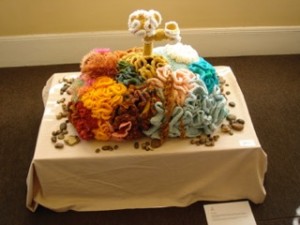 Mmm! Something soft that I could stitch onto was needed – with a firm base. I bought a pillow, then persuaded a friend to cut a piece of plywood into the required oval shape for me. It took ages to drill holes all around the edge of the plywood but at last I was done and stitched the pillow onto the base.