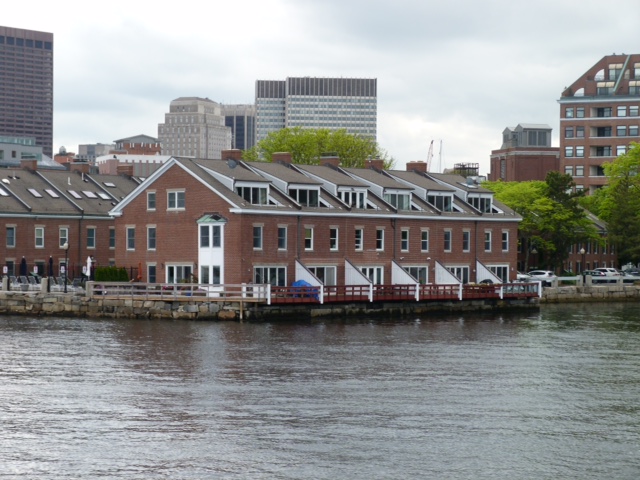 "The Boston Tea Party" is the one bit of American history that most of us remember. Who could forget the image of all that tea chucked overboard into the harbour? And all those pathetic jokes about tea parties . . . . . Mind you, most of us forgot the reason for the protest – something to do with taxes imposed by London? Wikipedia says << The Boston Tea Party was a political protest by the Sons of Liberty in Boston, on December 16, 1773. The demonstrators, some disguised as Native Americans, in defiance of the Tea Act of May 10, 1773, destroyed an entire shipment of tea sent by the East India Company. They boarded the ships and threw the chests of tea into Boston Harbour. The British government responded harshly and the episode escalated into the American Revolution.>>
We first glimpsed the harbour from the town tour bus. With it being "Memorial Day Weekend" all the tourist attractions were packed, so when we boarded the boat we had difficulty finding a seat on deck. There was one vacant seat next to a family, but the young father jumped up and insisted that Ann had his seat. Then he sat his daughter on his lap to share her seat. He was such a charming man: he introduced us to his children with old-fashioned courtesy. "This is Miss Ann and this is Miss Jane."
Harbours all look much of a muchness, but one vessel stood out. It was the USS Constitution, a wooden-hulled, three-masted heavy frigate of the United States Navy. Launched in 1797 she was named by President George Washington after the Constitution of the United States of America. She is the world's oldest commissioned naval vessel afloat. At the time of our visit the vessel was undergoing extensive re-furbishment and all the canons were lying on the dockside.
When we disembarked we inspected the obligatory photo that had been snapped as we boarded. Not bad! So I bought it.