Julie's poster says it all!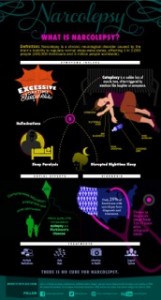 It is just amazing to find a very coherent blog by Julie Flygare  on the subject of narcolepsy. Click here to read more.I always hesitate to read websites about the condition because I have found it makes me too gloomy.  When I first showed symptoms our dour Scottish GP told my mother that it was growing pains. No one had heard of narcolepsy and my Mother was inclined to suspect that I was "trying it on" – especially when she noticed that if I was really enjoying myself I did not doze off. However she must have been really worried and she was always the most sensitive person when I started to doze in public – for instance, while eating a meal when we were on board ship en route for Rhodesia, (Zimbabwe). She would say, "Janie, I forgot my hanky – could you pop back to the cabin to get it for me?"
It was our lovely family doctor in Rhodesia, the late Dr Ann Martin, who first mentioned "narcolepsy" – she had found it in one of her medical books. She then researched possible treatments, and gave me a prescription for Dexedrine. The tablets did not seem to make any difference so we abandoned the treatment. I was still at school and, to all intents and purposes, managing. My teachers never commented – perhaps they failed to notice or perhaps because I was a grade A student. And my Parents did not seem to be aware how many catnaps I snatched while shut in my room doing my homework. I tribute my survival to this fact: I was never given a label. I was expected to get on with life.