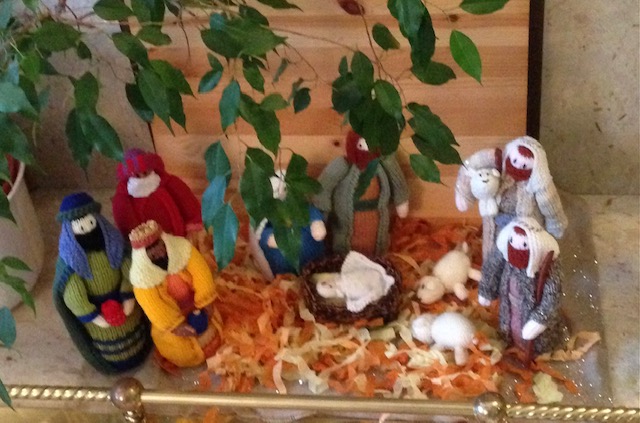 "I'm going to ask Father Christmas for magic" declared my brother John with all the confidence of a six-year-old who still believes. However, with the responsibility of the big sister who had been entrusted by my Parents to "keep the secret" I was in a quandary. I did not want John to be disappointed when Father Christmas failed to deliver, there was no way my Parents could produce magic and I knew that I was not allowed to tell. I did try very hard to dissuade him but when we carefully wrote out our letters to Santa he persisted  with his request. Then my Mother posted the letters up the chimney, over the grate where the fire blazed. Of course, I realise now that was one secret I had not worked out. Of course she didn't put the letters up the chimney! She must have palmed them.
Were my childhood Christmases the best? That time when very few homes had a television and when our Family traditions were not influenced by what we saw on a little box in the corner of the living room. I remember helping my Mother to decorate the tree with the delicate baubles and pretty bits she brought out every year. We made paper chains to hang around the room while she strung lengths of string across the room on which to display Christmas cards. On Christmas Eve, my brother sister and I placed one of Dad's long khaki socks at the foot of our beds in excited anticipation. On Christmas morning the sock would be bulging with goodies: a rolled colouring book plus a packet of coloured pencils, a bar of chocolate, a couple of novelty toys then right at the foot a tangerine wrapped in silver foil. Most exciting of all there would be a large package beside the bed containing that year's main present. I think the year that John asked for magic he actually got a toy garage – but he settled happily for that when our Mother explained that only Santa was allowed to have magic.
As I wallowed in nostalgia and memories from so long ago, I began to reflect on all the many negative aspects of the Festive Season and I got bogged down . . . I have always HATED the forced jollification of Christmas Day and the Commercial pressure to make it "The best Christmas Ever" and the media insistence that Christmas is a time for families to "be together". As you and I know, Families cannot always be together across the Oceans and in some instances – not mine, I hasten to add – Families do not WANT to be together!
My idea of a perfect Christmas: a log fire, a good book and ,above all ,the company of my nearest and dearest. Last year restrictions put an end to that. Fingers crossed that Families will be able to get together this Christmas.