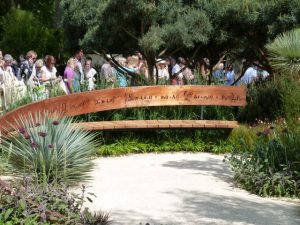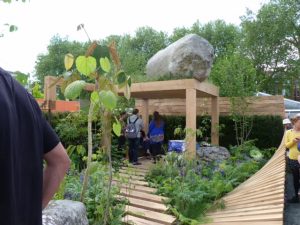 "Would you like to go to the Chelsea Flower Show? Our treat"
"Yes please! When is it?"
Of course I would like to go. I had only the vaguest notion about the event. I imagined it to be a bit like the Hampton Court Flower Show, but more compact since it was on a smaller site. And since the Chelsea show is six weeks before  the Hampton Court event, there would still be possibilities for displaying spring bulbs.
The first garden we saw reminded me of the balancing rocks in Zimbabwe, and it was nearly as spectacular. I overhea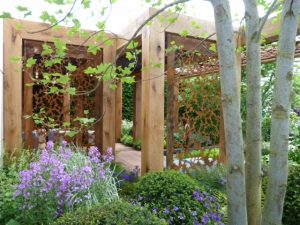 rd an official reassuring one nervous visitor, "No, madam, it won't fall. It is perfectly safe." All the same, I did not stand under it.
All three of us were a bit disappointed in the gardens on view this year. There was so much planting that looked haphazard and more as if the gardener had just scattered a handful of seeds here and there across a landscape designed to be rocky and stony. All very clever, but not what we wanted to see at a "flower show". The garden that was to be re-located to the Hospice had been carefully thought out, designed to be  a peaceful place for patients and their relatives. The paths and planting even allowed for when vistors were walking with their heads down.