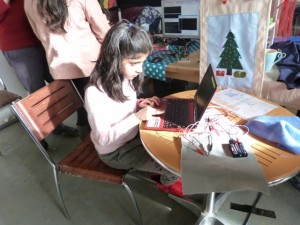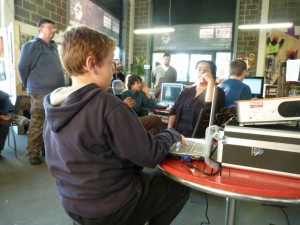 On the very last day of the Chelmsford Ideas Festival, SoSLUG hosted a "Mini-Raspberry Jam" at the Ideas Hub in Market Square. This event marked the final day of Chelmsford's Ideas Festival. It was good to see keen youngsters whose parents were also interested, not just there to escort their child. They homed in on the Raspberry Pi area where they could sit and have a go. I showed my use of the "crumble controller" to light up the Xmas tree lights on my wall hanging. Sadly, the low winter sun – usually so welcome – shone so brightly that the lights were hard to see. But people stopped by to find out how the "Crumble" was programmed. Crumble uses a 'block' language based on Scratch and one young visitor spent a long time coding a single neopixel. She was determined to make it flash through the colours of the spectrum. As so often happens when running a "show and tell" table, I never did get around to exploring the "sonic pi" activities that I could hear from upstairs and I never asked the demonstrator near me how his assembly of four connected Raspberry Pi's worked. However, I did enjoy listening to the speakers. The lad with his robot – a work in progress.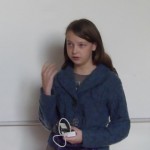 The lass with her Astro Pi – she won the 'Sense Hat " for her school as a result of being highly commended in the Astro -Pi competition and the nine year who has his own blog and talked confidently about his projects. It is so important for today's youngsters to be able to stand up and speak to an audience. Then there was Ed's "persistence of vision" bike wheel which looks even more effective in the dark – another item that suffered from the unwelcome intrusion of the sun's rays!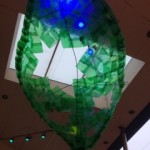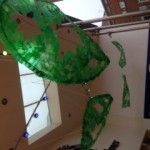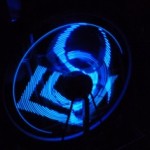 Finally there was Vicky's project which hangs in High Chelmer. When I first saw the four gigantic leaves hanging there I had not appreciated the story behind them. The squashed and glued green plastic bottle artwork is a collaboration of school children, led by artist Victoria Button with technical support from Ed when it came to raising the leaves into position. The lights are controlled by Raspberry Pi's which respond to the air pollution data recorded for the Chelmsford area. See more here. All-in-all, the event went well.