After a week of glorious sunshine the weather broke on Saturday, the day Westcliff Women's Institute had chosen to visit Buckingham Palace and we arrived in London accompanied by rain.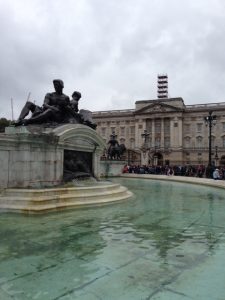 Naturally the stalwart members had all come prepared with brollies and macs so the first stop after leaving the coach was, of course, for a coffee. We had envisaged wandering around St James Park to fill the remaining hour or so before our allocated time-slot but because of the rain many members chose instead to browse the shops. Others dodged the raindrops and joined the crowds to press against the Palace railings to catch a glimpse of the Changing of the Guard. Then we found the Guards Museum Gift Shop – a teeny space full of touristy stuff. Right in a corner I spotted a black scarf covered in red roses. Yes! I had to have it.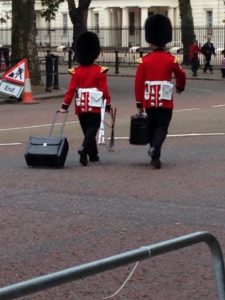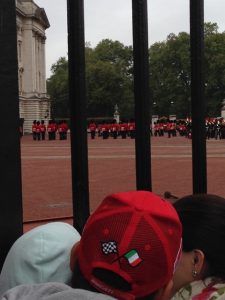 The Guards Museum itself houses uniforms and memorabilia from way back. While I find it fascinating to study these items I cannot help reflecting what a tragic waste the whole business of fighting is. It is not just the tragic loss of life it is the blighted lives of so many of those who return damaged from battle. And the cost! All that money poured into arms and armaments. All that time and expertise spent seeking bigger and better weapons, deluding ourselves that they are "deterrents".
It was still raining when we returned to the Palace but we were ushered into a large space and told to move forward or sit down and that this was a "holding space" – not a queue. Mmm! What is the difference between a body of people hanging about, all intending to go in the same direction and a queue? Actually, it did not take too long to move through the airport style search/ scanning area and then we were each issued with an audio device and ready to go.
We slowly strolled through the State Rooms marvelling at the opulence and magnificence and trying to take it all in. Wandering around Stately Homes is very tiring, especially when shuffling along with a crowd of others. I was most grateful for the judiciously placed benches on which we could perch for short breaks. The special exhibition this year features the Queen's wardrobe, including her wedding and coronation dresses. Her waist in those days was so tiny! (So was mine, before children!) I should have like dot linger longer over the garments. Better still, I should have loved to don a pair of cotton gloves, (to protect the fabric) and inspect how each garment was put together.
At the end of the tour there was a cafeteria where we could enjoy a welcome cup of tea and take the weight off our feet. And, of course there was the Gift Shop – an essential part of any Stately Home or Museum visit. Bit pricey! However, I found the official Buckingham Palace Guide at £4-95 which I think is a bargain. I have been perusing its pages reminding myself of what I saw and learning more.