"Your flight is boarding in twenty minutes Ladies and Gentlemen, please proceed to the lounge area through door number two."I picked up my three black umbrellas, my briefcase and my jacket. Oh God! Whatever possessed me to bring all three of my brollies: the compact, lightweight model, the man-size one and the one with the fancy wooden handle? And – on no! – I had picked up the wrong jacket. There was a large smear of white paint across the shoulder. But there was no turning back.
Our little group was shepherded into a small lounge and given coffee accompanied by tiny freshly baked muffins. Then we were guided aboard an executive jet. As I fastened my seat belt I heard the dreaded words, "Now Ladies and Gentlemen, I want each of you to give a brief outline of your presentation." I did not have one! I was a fraud! I should not even be there. A lovely lady at the front turned and gave me an enormous wink before she launched her idea.
What could I say? Help! . . . wait a minute, I think I've got it.
I heard myself saying, "I want to write a blog to help people with    narcolepsy . . ."
Then I woke up! It was only 5:13 a.m.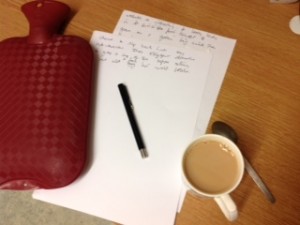 Wow! Last night's meeting of "Winning Women (Essex)" had certainly left its impression. I sleepily jotted down brief notes on my bedside notepad to capture my dream before it eluded me and slipped back into my sub-conscious. Then I staggered downstairs to grab a cup of tea and re-fill my hot-water bottle. Is it worth returning to snatch another hour's sleep?      Yes!