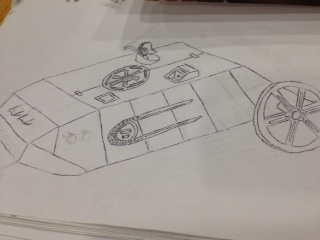 The deadline is almost upon us and our robot is almost ready. Now it needs a shell. On reflection we should have measured this up weeks ago, but the team was focused on coding. Israel came up with a name: CTHULHU. Something to do with CTHULHU being an ugly many-tentacled monster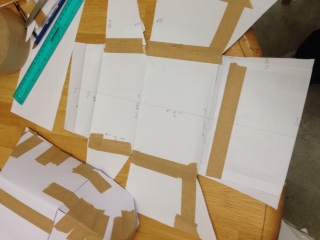 which perfectly describes our many-wired robot. Maise and Marian designed a shell which Israel modified and drew out. They had plans to print out the shell with a 3D printer. Meanwhile I quietly worked on my back-up construction: a 'card+licky-sticky-paper' shell. Everyone at SoSLUG gave me a sideways look – especially when they saw my paper plan. No, of course you do not need to lick every strip of brown gummed paper – although I often do for convenience, Mostly I use a clean paintbrush with a little water. And the secret is to really smooth down each strip of paper as you apply it.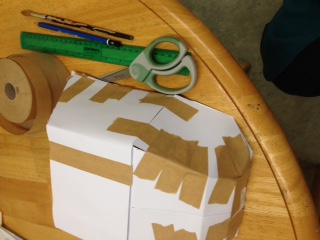 Took the shell along to the session on Thursday night. It fits! Now, how do we attach it so that it does not fly off during the challenges? Blow me! The next thing I know the wheels and motors are being unscrewed. Why? "To raise the robot chassis for the obstacle course." Okay. But that means my shell can no longer rest on the motors . . . Deep breath. We are 'Team SoSLUG. We are working together.' I think that the team appreciates that time is of the essence but some of them do not appreciate the wisdom that it is better to submit a project 90% complete than to struggle to reach 100% and submit nothing. And there really is no longer time to take apart the robot to tinker with improvements.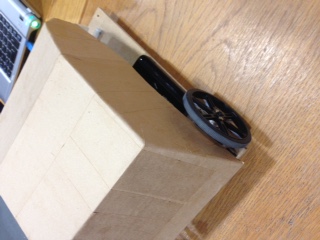 I tried the shell on the robot again. It is okay, it rests on the sensors. And it may be attached by drilling a couple of holes and tying it to the rear of the chassis. So far, so good.
Maise and Israel want to cover the robot with some patterned paper they made at school. Great! There is no need for me to paint it – although I felt quite possessive when I left the shell behind for them to work on the following evening. Working as a team is great – but tricky. I feel that the youngsters must be allowed their head – but every now and then I have to protest. Some of their ideas have to be tempered to be made workable. That is the benefit of a team.
On Saturday the team – all ten of us – travels up to Cambridge in three cars. The robot PiWars is going to be fun.