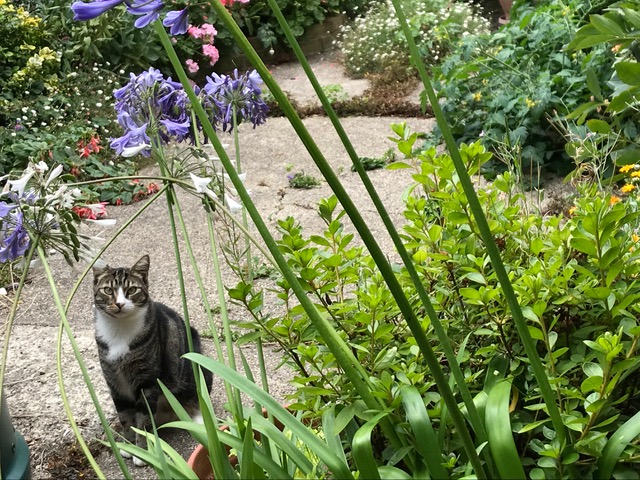 Enforced confinement within my home with hours of free time stretching ahead of me each day has completely stunted my creativity. Lockdown lethargy has rendered me incapable of completing projects, able only to function at a very basic level of feeding myself, dressing and washing myself and forcing myself out for a walk each day. My "got up and go" has truly "got up and went". Then I read Pip Lincolne's latest blog, (see meet me at mike's) and she listed 25 things that she loves inspired by Julia Cameron and "The Artist's Way'. She also gave a link to an interview given by Julia to Russell Brand (click here and don't forget to skip the ads!). Yes! It was my lightbulb moment. I have a project. I have motivation. I am re-visiting Julia Cameron's book "The Artist's Way – the book my younger son gave me all those years ago. And I am following Julia's twelve-week course to unblocking creativity. For the first time in weeks I feel energized and enthusiastic.
Twenty five things I love.
Being with my sons, daughters-in-law and/ or grandchildren.
Walking along the Sea Front
Sitting on my garden bench watching the bees on the flowers
Sewing, from dress-making to embroidery to making rag dolls
Knitting and crochet, turning a length of yarn into a wearable item
Drawing and doodling, from little sketches to Zen Tangles
Sinking into a book to immerse myself in another world.
Chocolate. Not just any chocolate but a Reece's Pieces peanut butter cup straight from fridge.
Hot water bottles
Roses/ peonies/agapanthus lilies and arranging flowers.
Being with friends.
Sliding into bed between freshly laundered cotton sheets
Swimming in warm water.
Feeling the weight of a sleeping baby nestled in my arms.
Eating vegetables that I have grown myself.
Attending live Theatre.
Going to the Cinema.
Having my toenails trimmed and my feet massaged. Bliss!
Lying back to have my hair shampooed at the hairdresser's
Cooking – combining a few basic ingredients to create tasty meals.
Messages from my grandchildren, electronic or hand written.
Driving fast with rock music blaring. Don't worry: I gave up driving ten years ago!
Growing new plants from cuttings
Tai Chi Chuan, although my immobile left shoulder has seriously impacted on my practice.
Pilates. My body is so much stronger than I realised. Arthritis restricts my movements but I need to keep trying.