When did you last do something subversive? Were you ever brave enough to leave your mark for others to see? Maybe a drawing on the newly decorated dining room wall as a toddler?   That was my brother – with a dark purple crayon! Or a naughty word chalked on the school blackboard? Okay. I confess. As young teens my friend and I giggled our way through every classroom on the campus of a half-built college and wrote "merde!" We were so pleased with ourselves!
Seriously, graffiti is vandalism – unless you are Banksy. But what about bombing with yarn? Is that vandalism? Or fun?
Oh it is great fun! Two years ago I went yarn bombing in Hockley Woods. As part of the "Cultural Olympiad" a textile artist called Jessica had been working with schools and community groups in South East Essex to teach knitting and gather knitted squares. I was one of the volunteers who accompanied her into schools where we concentrated on 'finger knitting". Some of the youngsters were very wary, "I can't do that." "Miss, miss is that right?" Then suddenly they realised that they were 'doing it' and a tube of knitted yarn was cascading from their fingers. After that there was no stopping them and I learnt later that some of the children even brought yarn in from home and continued to finger-knit in the playground.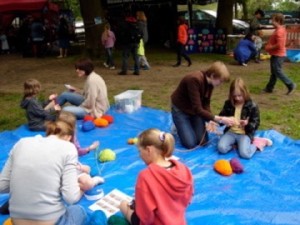 Anyway, on Wild Woods Day Jessica brought lengths of knitted squares that had been stitched together plus armfuls of finger knitted strips and laid them out on a tarpaulin for us to 'bomb' with. A woodsman hung on a harness from the largest tree and then tied on the end of the longest piece of knitted squares before wrapping the trunk, while Jessica carefully circled the tree holding the other end. The other volunteers and I paired up to wrap smaller trees.
And the rest of Wild Woods Day 2012? Well there was a procession through the woods led by the Bollywood Band then visitors gravitated to the various stalls and sideshows or to sit on our tarpaulin and finger knit. A week or so later all the knitting was taken down to be re-erected at Hylands Hall in Chelmsford for the Cultural Olympiad Grand Finale.
Yarn bombing is usually a joint effort. It just takes too long for an individual to knit enough to cover a piece of street furniture or to wrap around large tree trunk. And it doesn't have to be knitting. A local group called Craft Club yarn bomb with crochet. Each year they choose a theme and their work is spectacular.  Click here for 2014 and here for this year.